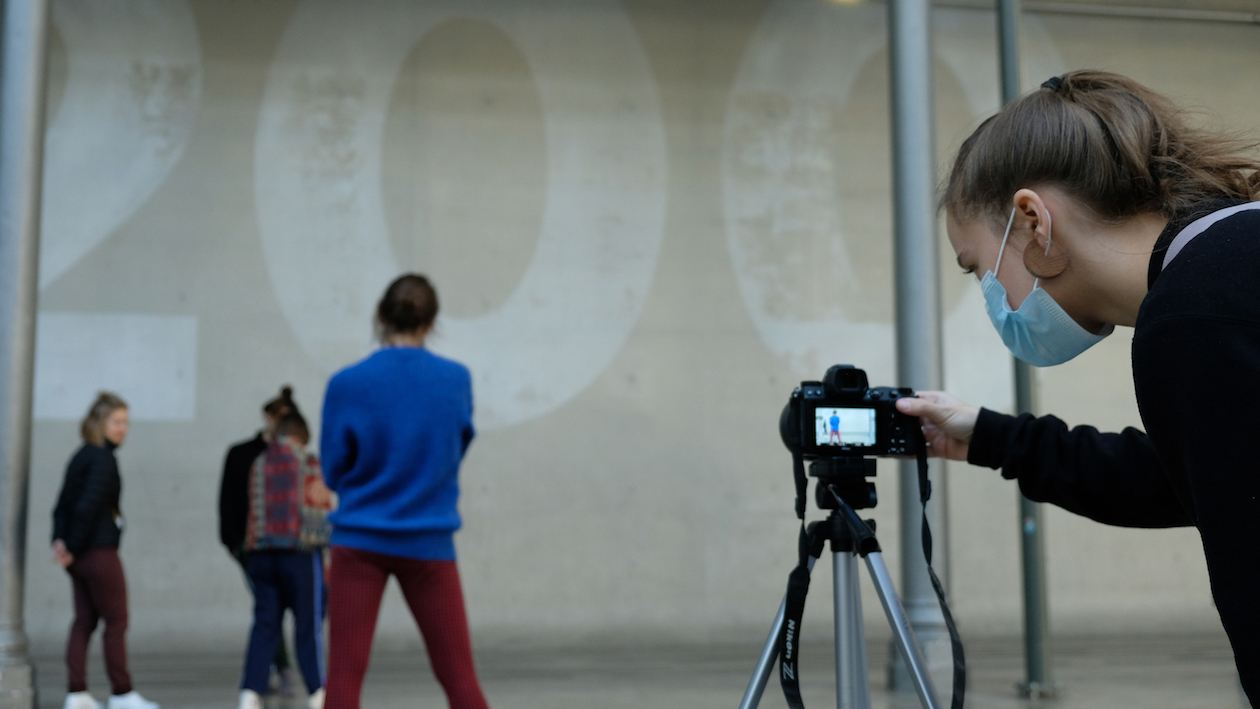 Collaborators
Collaborator
MARGHERITA BERGAMO MENEGHINI
Chorographer
Margherita (aka Telma Ha) devoted herself to contemporary dance and completed her choreography studies at the Conservatory of Dance of the Barcelona Theater Institute after a professional career with the Italian rhythmic gymnastics team - Italian champion the years 1996 and 1997. She also studied at the Faculty of Philology at Ca' Foscari University in Venice and at the Faculty of History at the University of Barcelona. Dancer and also manager of the dance company Erre que Erre, in 2010 she co-founded the company Les filles Föllen with Tuixén Benet, an experience that introduced her to performance close to the public and to choreography for different media. She currently creates choreographies for various audiovisual productions in 3D, VR and XR, such as with Trizz Studio, Atelier Daruma, Digital Rise, and collaborates with various universities through publications, conferences and interventions.

JANE FOURNIER
Dancer
After going through different gestures, hip-hop, flamenco, sevillian, jazz, in 2012 Jane joined the
Conservatoire National Supérieur de Musique et de Danse in
Lyon in contemporary section. She continued her studies at Modern Theater Dance in Amsterdam. Her research on meditation and Yoga practice gives her the impetus for a humanitarian mission to Cambodia to teach dance in the orphanage of Siem Reap. In 2017, when she returned to France, she also created Compagnie Fernweh.
CAMILLE CHEVALIER
Dancer
Her dance mixes acrobatics, femininity, fluidity, felinity and theatrical work. With a base of gymnastics, hip hop, classical and modern jazz, Camille joined Le Centre Chorégraphique James Carlès in Toulouse (2014-2017) and was also the choreographic assistant. In 2016, she performed with the company La Licorne directed by Alain Gruttadauria, and in May 2017 she was a trainee at the Batsheva Young Ensemble in Tel Aviv. In 2018, she joined a dance acrobatics training at the CNAC, and founded Compagnie Psaodi with Benjamin Labruyère.
NAOMI CHARLOT
Dancer
Naomi discovers from an early age an attraction for art, she then takes music and dance lessons, but it is towards dance that she decides to go more seriously. In 2010 she began her professional training at the CRR of Angers, then at the Choreographic Center James Carlès in Toulouse, where she graduated from the training as dancer-performer. In 2016 she joined the Geneva Junior Ballet under the direction of Sean Wood and Patrice Delay. In 2019 she created the company Nana with Angelica Ardiot, and in addition to her work in the company, she participates as a dancer to different projects of music videos for music groups.

MATHILDE ALLEMAND

Dancer
Musician, actress and dancer, Mathilde has a transversal approach to the arts. She turned to dance training first with the company Désoblique in Lyon, where she developed her contemporary technique, then she joined the CobosMika School in Spain in 2018 under the direction of Peter Mika and Olga Cobos. In 2017 she created her first piece "Un Vertébré", combining dance and theater, in duet with comedian Cyril Delcerq, and continues to feed on multi-artistic projects.
RAPHAËLLE RENUCCI

Dancer
Raphaëlle is born in Corsica and studied contemporary dance at the Bordeaux's music and dance conservatory, then flew to Canada where she graduated from the Montreal School of Contemporary Dance (EDCM). Since then, she has collaborated, as an interpreter or choreographer, with various artists such as Cirque du Soleil, Skeelsdance, Sursaut, Flamant Collective, Ensemble Volte, Stefania Skoryna, Flora Spang and the Afro-soul group Kolinga.
ÉLISE BOILEAU
Dancer
Graduated from Conservatoire de Paris and from EDCM (Montreal, Canada), Élise is a skillful artist with a creative and intuitive spirit. Since 2014, she works with different dance, theater and improvisation creators, mainly in Canada, such as Margie Gillis, Véronique Bossé, Corpus Dance Projects and Daniel Brière. She is particularly interested in improvising, in discovering body's potential. After traveling around the world in 2019, she settles in France and works with Cie Voix and InVivo.
BENJAMIN LABRUYÈRE
Dancer
Former gymnast, Benjamin started to dance by discovering the world of breakdance in 2010. A mainly self-taught dancer, he trained through numerous workshops, as well as somatic practices such as Lucid Body, Continuum Movement, Axis syllabus, the Clown… His dance and his pedagogy are nourished by his background as a masseur-physiotherapist and practitioner in Wùo Taï (osteo-dance). Its aesthetic is hybrid, playing with spiral and momentum, simultaneously feline, organic and acrobatic. After having worked in various companies (Achak, Pure, Contre-temps danse, Rocoulet), he is now a performer for the collective Tutti and
Compagnie Psaodi
which he co-created in 2019.
MARK LEE
Scriptwriter
Mark is a New York City-based writer, producer and filmmaker with a background in theater (as playwright, dramaturg and director) and literature (focus on modern European literature and literary translation theory). Previously, he was Producer for the feature film "Lotus Eaters" which premiered at the Tribeca Film Festival in 2011 and was theatrically released in 2013 in New York, Los Angeles, London, Toronto and Montreal. He is currently writing plays and stories for text-message-based narrative platforms.
DANIEL GONZÁLEZ
Virtual Reality Developer
Daniel is a digital artist born in Colombia and based in Barcelona. He considers himself as an electronic art explorer and interaction design creative, with special interest in sound art, interactive art, empathy research, virtual reality, augmented reality, embodiment, telepresence and social innovation. He received, among other awards, an honorary mention in Prix Ars Electronica 2014 (Linz, Austria) along with Be Another Lab team with the project "The Machine To Be Another". He founded and directs Omnipresenz.


DALE NICHOLS
Music Composer
Dale is a Canadian composer who found his love for music at an early age, starting with the piano and expanding to other instruments as his curiosity grew. He was classically trained through the Royal Conservatory of Music of Vancouver BC and participated in provincial music festivals and competitions, garnering awards for performances throughout his youth. For the past four years he has been based in Dubai, United Arab Emirates, collaborating with local and international filmmakers, creating the soundtracks to short films, documentaries, commercials, and virtual reality projects. He now lives in Vancouver.

KIRSTIN HUBER
Visual Designer
Kirstin is a New York City-based visual and performing artist. She spent 7 years as the in-house Art Director & Senior Graphic Designer at The Public Theater, practicing a devotion to beautiful typography and cultivating a deep love of theater and performance art. Since 2017, she has worked with various clients on branding campaigns, books, film and theater posters, video editing, projection design, and more. These days, she spends more time on movement exploration, pursuing a latent dream of dancing after having double hip surgery.

ARI SCHNEIDER
Visual Designer
Ari is a Barcelona based designer and illustrator. After graduating from Elisava School of Design she won a Laus and right away entered the merciless world of the artistic work field under capitalism, she's never won anything again. For the last years she's been working as a graphic designer in studios and freelance, as well as an independent illustrator. Since 2018 she's been working as the main graphic designer for Apolo Music Hall in Barcelona while still working as an illustrator for a variety of editorial and musical projects.

ÉMILIE LÉVEILLÉ
Video Maker
Having first been accompanied by audiovisual production and cultural mediation training groups in Paris, Émilie then turned to writing the word and the image: stories about folk music, poetry with an automatic character from short and feature films to video projects, whether in dance, music or video art. All her career and her research reflect a desire to question, almost always, the authentic self. Based in Chalon sur Saône, she evolves around La Méandre.

PALOMA BOMÉ
Costume Designer
Based and born in a free spirited and peaceful place such as Ibiza, Paloma started to develop one of the strongest connections of her life: A love for Nature. During the Metropolitan period that she spent between Madrid, Barcelona and other European cities, she studied the Career of Fine Arts, a degree in Textile Design and developed a passion for Photography. She started to work in Costume Design, first through Opera in 2007 and then in Cinema, Theatre, Performance and Advertising. Her professional path is rather eclectic and a constant dance between costume design, graphic arts and hand crafts and her guide is still curiosity for 'the other', the excitement of discovering ways that manifest the beauty in every form of life and art. She's always searching for new experiences and inspiration while travelling around the world.
LUCIA CANDELPERGHER
Associate Producer
Born in Padua, Italy. After graduating in Economics and Management of Arts and Cultural Activities at the Ca' Foscari University of Venice, she has held various professional experiences in the cultural sector in Italy and in France. Since 2007 she has collaborated with the Paduan production company Jolefilm srl, for which she was in the production of documentaries and theatrical pieces. In recent years, she has collaborated with other production companies, including Miramonte Film, and founded Caravellafilm and Sgrafi.