Photo © Mark Lee.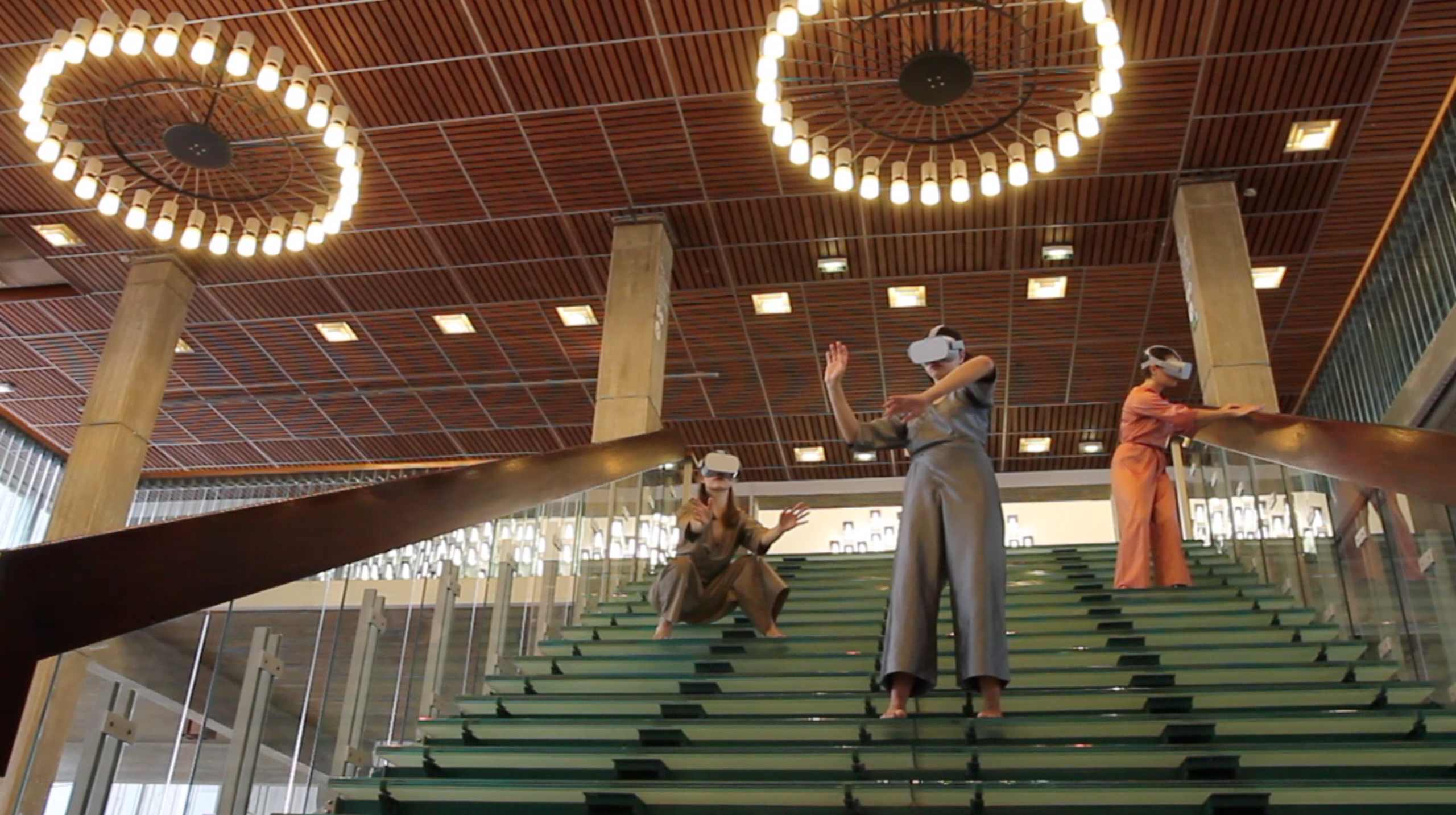 Photos © Émilie Léveillé.
Photos © Denis Martin.
Eve, dance is an unplaceable place
Live performance
Premiere 11 October, 2018 at Tangente Danse & Festival de Nouveau Cinéma Montréal.
Download Press Release
Watch Teaser
Watch Film
Read Testimonials
Laval Virtual Award Recto VRso 2019
Kaohsiung Film Festival Grand Prize 2019

Live show
Eve makes possible the encounter between the virtual and the real world, travelling among dimensions, giving shape to questions. In this encounter, the users enter the body of Eve and travel into stories thanks to an incarnation - that is to say the virtual reality experience.
Eve is like a Pachamama, the so-called goddess revered by the indigenous people of the Andes, known as the earth and time mother. In Inca mythology, Pachamama is a fertility goddess who embodies the mountains, and causes earthquakes. She is an ever-present and independent deity who has her own self-sufficient and creative power to sustain life on this earth. The four cosmological Quechua principles - Water, Earth, Sun, and Moon - claim Pachamama as their prime origin.
The project is a live participative dance performance based on three experiences of EVR (Embodied Virtual Reality):
Oh Home
,
Multiplication
and
The Ecstasy of Gold Reloaded
. The performance takes place with three dancers, and includes the three simultaneous experiences of EVR, for three users chosen randomly among the audience. The experiences are reproduced in the VR headsets and also on projections so the rest of the audience can follow the virtual narratives.
The performance can also be presented in modular formats, and smaller exhibition venues, in order to create a
one-to-one experience
.

Why a live show?
The relationship between the virtual reality videos and the live performance is the key point of the project. We are interested in creating and opening a channel to physically associate the three choreographies on the VR videos and the live choreography.
To do so, we select and set the contact points between the bodies of the dancers and the bodies of the users. These contacts produce the
sense of embodiment
, and construct a map of movements for the choreography.
The four choreographies — three in video and one live — are like the positive and the negative of a film, the meeting between the real and the virtual. The live choreography incorporates the embodiment contact points of the three VR videos, following a precise timeline.
The live show introduces the users to the EVR experience through a Ritual, and accompanies them back to reality.
Credits and acknowledgments
Choreographer & Co-creator: Margherita Bergamo
Interaction Design, VR Developer & Co-creator: Daniel González (Omnipresenz)
Scriptwriter & Associate Producer: Mark Lee
Associate Producer: Lucia Candelpergher
Music Composer & Sound Designer: Dale Nichols
Visual Artist: Kirstin Huber
Costume Designer: Paloma Bomé
Lighting Designer: Hugo Dalphond
Developer: Cédric Lachasse
Photographer: João Queirolo
Video Capture: Émilie Léveillé
Interpretation: Mathilde Allemand, Naomi Charlot and Jane Fournier
Creation 2018 in France: Camille Chevalier, Jane Fournier and Nahuel Renaud
Creation 2018 in Montréal: Jenna Beaudoin, Élise Boileau and Raphaëlle Renucci
Production & Distribution: Compagnie Voix &
Omnipresenz
With the support of: BeAnother Lab, Le Réservoir Ville de Saint Marcel, Département de Saône-et-Loire, École de Danse Contemporaine de Montréal, Oculus VR