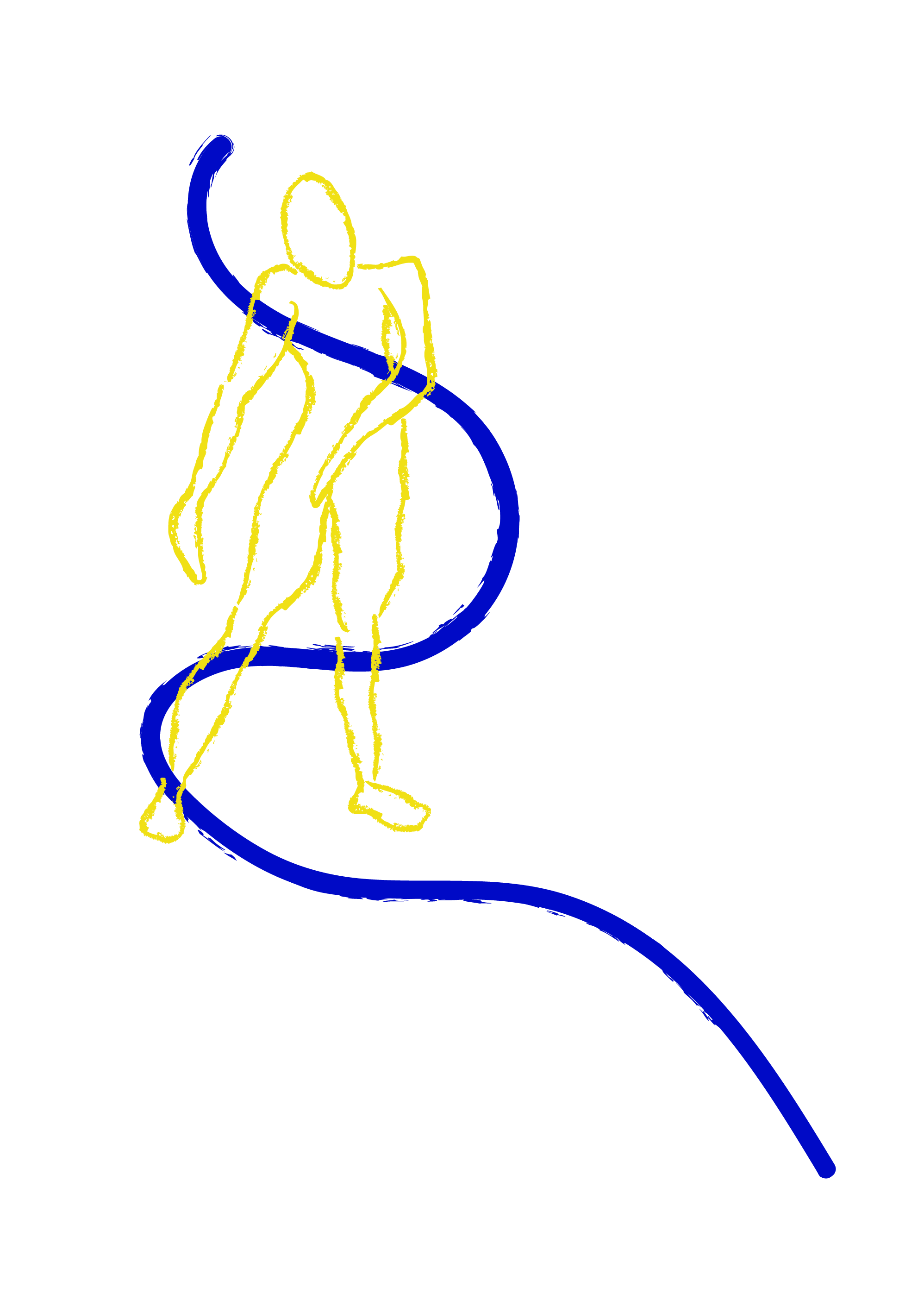 July 10 to 22, 2023 @ CDM Paris
Think with the body
Physical and creative training, to raise our flexibility, power, fluidity, with improvisation tools @ Centre de Danse du Marais • 41 Rue du Temple • 75004 Paris • from Monday 10th to Saturday 22nd July • from Monday to Saturday • 12:30PM all levels
25 June, 2023 @ PAN Festival, Riva del Garda
Eve 3.0 beta prototype
The project is presented in an outdoor setting, in the context of a festival dedicated to philosophical and artistic reflections in nature.
19-21 May, 2023 @ Tifawt Rabat Digital Arts
Eve 3.0 beta prototype
From May 19th to 21st, we'll be presenting the new version of the performance, which has been developed in its six-story, multi-user format.
12-16 April, 2023 @ Recto VRso Laval Virtual
Eve 3.0 beta prototype
The content and elements that form part of the creation process of the project "Eve 3.0" will be presented in exhibition format from April 12 to 16 at the Espace Mayenne in Laval, during Laval Virtual tradeshow. On April 12, 13 and 14, we will also present the second version of the performance, developed in its full, multi-user format.
25-26 March, 2023 @ CINEDANS
Dear Diary (360 film) in Amsterdam
On Saturday, March 25 and Sunday, March 26, from 10am to 7pm @ EYE Amsterdam, we are conducting study format presentations of "Dear Diary", a 360 degree stereoscopic film that is part of the multimedia project "Eve 3.0". In this film, participants are embodying the point of view of Eve, in a narrative where they meet a group of teenagers and witness what happens among them due to the presence of a secret diary. This study is supported by the research unit Scènes du monde, Edesta Paris 8, Visual, Performing, and Media Arts, University of Bologna, and Simon Fraser University's School of Interactive Arts and Technology in Vancouver, Canada.
22 January, 2023 at 7PM CET @ Online
Assembly of Compagnie Voix
Compagnie Voix reaches 5 years, with six completed productions, a project in development and educational and research activities that link various agents on the international territory. We would love to discuss this and other related topics at the next meeting with you!
21 January, 2023 @ Micadanses Paris
Think with the body beginning 2023
Physical and creative training, to raise our flexibility, power, fluidity, with improvisation tools. Saturday 21 January, 2023 from 5PM to 8PM @ Micadanses, 15 Rue Geoffroy l'Asnier, 75004 Paris.
30 November, 2022 @ VR Days Europe
Pitch Eve 3.0 - Program Impulse
We participate together with François Klein of Digital Rise in the Impulse program of VR Days, which invited the project to be presented in a 5-minute Pitch in front of a professional audience of immersive narrative contents. De Doelen, Schouwburgplein 50, 3012 CL Rotterdam, The Netherlands.
7 November, 2022 @ Université Grenoble-Alpes
Performance RéticulationS - Closing day REALWORLD4CLINIC
This day aims to present the patient-centered studies of the RealWorld4Clinic project, and to open the discussion on the issues and perspectives raised by new medical technologies for the monitoring of chronic diseases such as heart failure with the various actors concerned. PERFORMANCE 5.30 PM: UX Lab de la Maison de la Création et de l'Innovation, 339 avenue Centrale, 38400 Grenoble.
3-4 November, 2022 @ Zed Festival & DAMSLab / La Soffitta - Università di Bologna
Workshop on immersive narration and the body in virtual reality
Through a first phase of experimentation on bodily expression, the workshop aims to develop narrative paths capable of hybridizing the choreographic language with the possibilities offered by virtual reality (VR) devices. Participants, working individually and in groups, will experience the potential of VR media and will be accompanied in the process of creating a story. Thursday 3 November, 9.00 - 13.30 & Friday 4 November, 9.00-16.00 @ DAMSLab Theater, Piazzetta P.P. Pasolini, 5 / b - Bologna.
15-18 September, 2022 @ TANZAHOi International Dance Festival
Eve 3.0 prototype in Hamburg
After another period of development of the project, we have the opportunity to present the English version of the prototype and give a workshop! We are performing at the @ LICHTHOF Theater on 15.09 at 20:15, on 16.09 at 20:00, on 17.09 at 21:45 and on 18.09 at 15:30. The workshop will take place during three days from noon to 2PM, on Friday 16.09 @ Workspace GB3, and 17.09 to 18.09 @ Wiese eG, Hamburg.
On September 1st, 2022
Think with the body at DansBlok Leiden NL
Physical and creative training, to raise our flexibility, power, fluidity, with improvisation tools @ DansBlok, Haagweg 4F5, 2311 AA Leiden NL.
from August 16th to 26th, 2022 - 3 times per day
Summer sessions Think with the body at the CDM Paris
Physical and creative training, to raise our flexibility, power, fluidity, with improvisation tools @ Centre de Danse du Marais • 41 Rue du Temple • 75004 Paris • from Tuesday 16 to Friday 26 August • from Monday to Friday • 12:30PM beginner 2:30PM inter-advanced 7PM all levels
2-9 July, 2022 @ Tranås Festival (Sweden)
The short film Reminiscence in premiere
Based on the musical composition by Rick Cormier (John B. & Me, 1975) and on a quote from St. Augustine's (Confessions, X, 8), the film Reminiscence is the meeting of two women through a fortuitous chain of events, which awakens in them a sensory memory, which exists outside of time. The two women embody an intrinsic vital moment made of emotion, suffering and research. The two girls in white represent their ideas, projections, desires, the purity of disembodied souls. Spaces are empty of people, to underline the suspension of time, but also to contextualise the historic moment of summer 2020 in the center of the city of Paris.
5 July, 2022 @ Folha de S.Paulo + Itaú Cultural
Seminário sobre Web 3.0 e Metaverso
On the 4th and 5th of July, Folha de S.Paulo and Itaú Cultural will promote a seminar about Metaverse and Web 3.0. Compagnie Voix will be joining the seminar on Tuesday July 5th, from 9:45 to 11 am (UTC+2). The panel will discuss experiences of art and culture in the metaverse, and our presentation will concern dance in the metaverse, from creation to audience-directed fruition. The seminar will be broadcast on Folha's website and YouTube channel.
15 June, 2022 @ Metaxu Pantin, Paris
Screening evening
Let's take advantage of this early summer date to get together, celebrate the move of the association headquarters to the 19th arrondissement of Paris, and screen some of our short films. Place de la Pointe, 93500 Pantin, from 10PM.
3 June, 2022 @ Institut Marey Université de Bourgogne Dijon
Performance RéticulationS + Round table
From a theoretical debate on intersubjectivity and the influence of technological interfaces on creation, we propose a contemporary dance device with digital visual interaction. On the basis of the reflections extracted from the works of Gilbert Simondon, we invite a group of researchers with artistic dynamics in different disciplines (Christopher Nicole, Fabienne Martin-Juchat, Renaud Chabrier and Jean-Francois Jégo) to a CONFERENCE DAY organized at the INSERM U1093 - CAPS Laboratory, coordinated by Thierry Pozzo, Laurent Bonnotte and Margherita Bergamo Meneghini. CONFERENCE 10 AM to 4.30 PM : Room R16 UFRSTAPS (3 All. 3 All. des Stades Universitaires) & PERFORMANCE 5 PM : Espace Marey (64 rue de Sully, 21000 Dijon).
20 May 2022 @ Barnasants Barcelona
Ferrater .G with Meritxell Gené
Friday, May 20 at 8 p.m. Sant Cugat del Vallès Auditorium Theater. New creation by Meritxell Gené, homage to the poet Gabriel Ferrater (Reus 1922 - Sant Cugat del Vallès, 1972), with Jordi Busquets and Pau Guillamet 'Guillamino'.
12-13 April, 2022 @ Recto VRso Laval Virtual
Eve 3.0 prototype
After a period of development of the project, we have the opportunity to present the first version of the prototype, on Tuesday 12 April at 6 pm during the vernissage of the festival, and on Wednesday 13 April at 3 pm at the Lycée Ambroise Paré.
19-20 March, 2022 @ Saint-Vincent Tournante
Performance with Mure Natale & Roulottes en Chantier
A two days event in the vineyards of Burgundy.
shooting in February 2022
Casting young dancers for Eve 3.0
Compagnie Voix is looking for boys and girls dancers between 13 and 16 years old for its new dance and virtual reality creation. Interested dancers must be available for a week of rehearsal and a day of 360 ° filming in Laval (France) during the February 2022 school holidays.
PROFILE: 3 girls and 3 boys, contemporary dance styles, dances urban, dance theatre.
If you wish to participate, send us your application with first name, last name, date of birth, address, phone number, height, two photos (full-length and portrait), and a demo video of your choice to the email address casting@compagnievoix.com.
from January 15th to June 18th, 2022 - a Saturday per month
Ateliers Think with the body in Paris
Physical and creative training, to raise our flexibility, power, fluidity, with improvisation tools.
@ Micadanses • 20 rue Geoffroy l'Asnier • 75004 Paris.
15/01 from 9am to 11am So Schnell 26/02 from 11am to 1pm So Schnell 26/03 from 11am to 1pm So Schnell 16/04 from 11am to 1pm So Schnell 18/06 from 10am to 1pm So Schnell